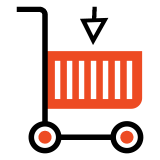 Updating Magento means to offer a modern, dynamic and totally optimised online shop
With this e-commerce service we help you update Magento with the best extensions and developments so that you can stop worrying about this and be sure that your online is in full performance. In e-commerce sector competion among among shops is constantly growing. Updating your Magento online shop to include the best functionalities will help you offer to your customer a modern and updated store, so you will improve purchase experience and, therefore, conversions and final sales will grow.
Updating Magento means to add new functionalities as well as to optimise and boost those all those aspects which our experts may find improvable. To update your Magento e-commerce, our experts will meticulously analyse your online shop to suggest how to improve and boost it. After this analysing process we offer several solutions which will help you improve your online sales channel and update Magento.
We can boost and update Magento by the following improvements:
New Magento Extensions

Our e-commerce platform offers several extensions and plugins which will let you improve and update your Magento store. Do not worry about what are the most interesting and adequate extensions or plugins for your business model. Our experts will be responsible for detecting those modules that help you increase your sales and which better adapt to your online shop. Forget about searching improvements which let you update your e-commerce. We are responsible for selecting them for you and sending improvement reports for your online shop.
Customised e-commerce development

If your online shop does not adapt to your business models, we can update Magento by customised developments. Our Magento Update service is based on hearing you and understanding your needs to include on your online shop those improvements and customisations to have your shop in full performance. Get your Magento updated by our most exclusive customisations and have an online shop that meets all the exclusive requirements of your business models to offer a better purchase experience to your final customers.
Expand to new markets

Have you ever thought about updating Magento to offer your product in new markets? If you are ready to update Magento to offer your products in new markets, you will broaden your target and consolidate you brand internationally. We help you focus, plan and update Magento to expand your business internationally.
Magento online shop redesign
Updating Magento is not only about improving its development and functionalities. Your online shop image is the image with which your customers connect your brand and your products. Get a modern layout to your online shop and you will improve your style and corporate identity inspiring confidence to your final customers.
Updating Magento also consists of delivering short upload times. Google penalises slow websites by showing competitors first on website search results. Moreover, customers don't like to navigate and purchase on slow websites because they create distrust. Updating Magento also means that your server is optimised and that your Magento online shop is fast.