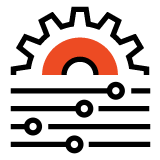 The best Magento developers at the service of your online shop
Magento is currently the most advanced e-commerce platform of the market. For that reason, if you are thinking about starting a new project online, the huge amount of options it has by default will help you reach the success you expect. Nevertheless, Magento, as a general e-commerce platform, might not meet all your requirements, given that each business has its own special features and singularities that make it different from the competitors. Innovation, change and continuous improvement in the development of new business ideas make Magento always keep up at the vanguard and it is ready to adapt to your requirements through the addition of new modules which extend Magento's basic functionalities or through the development of customised features. We at Way2 Ecommerce are experts in Magento development. We modify, customise, adapt and develop Magento to fit in the new customisations you want and make Magento work as you wish to help your business model success.
On the other hand, if you already have a Magento store, you might have added new modules to have new functionalities. Magento, as the market-leading platform, has a great variety of extensions, free and not free, which add new functionalities, from the basic to the more complex ones we can imagine, which extend and improve you online shop features. However, even having modules to extend Magento's functionalities, they might not totally meet your specific requirements. A Magento extension has some specific functionalities which can be more or less useful depending on your case, but, above all, it might not have some important features which make it unsuitable to improve your online shop. We at Way2 Ecommerce are aware of it and through our Magento development service we offer the possibility to customise Magento exactly to your specific requirements. Our Magento development service offers a generic solution from which you can use only a percentage of possibilities. Our Magento development service gives you the solution that better fits to your requirements with the maximum quality and profitability for your online shop.
How can Magento development service help me?
Magento development service rules

First of all, we carefully listen to you and understand your specific requirements. We are experts in Magento development, but before starting with the customised Magento development we must analyse and define the functionalities you need. Once you have told us in detail the functionalities your online shop needs, our expert Magento developers will analyse the best way to develop them. But that is not all, we not only are Magento developers, we put our background at the service of your online shop, therefore, once we have detected your needs, we will suggest improvements or alternative ways to get to the solution. That is to say, we will visualise your problem from different points of view to give you new ideas which will improve your customised Magento development, adding value to your business because of our expertise and several years of experience. When we have defined and enclosed your needs and requirements we will start developing them. We want to be your technology partner and for that we offer solutions of the maximum quality to help your business exceed the expected results. If you are thinking about setting up an online sales channel or you want to extend it by adding new and better functionalities we will be glad to help you reach your goals.
Future updates compatibility

Magento is a platform in continuos development and as time goes by new versions with new features and improvements are released. What happens with the customised development implemented until now if I want to update my Magento version? This is a common question; depending on how those developments were made it is possible that after updating Magento to a new version those developments do not work any more. We have experts in Magento development, our Magento programmers have vast experience extending Magento functionalites and all our code is optmised to allow future Magento updates and developments compatibility. Having experience in the Magento platform is a key aspect to successfully implement new developments on your online shop. Magento, because of its EAV structure, is ready to allow new functionalities on the platform without any kind of incompatibilities between the new Magento development and the future updates, that is why an extensive experience in Magento is needed in order to know how they should be done. Magento developments can be done in different ways, but only sticking to Magento development standards you can get the best solution regarding quality, execution times and durability.
We are the technology partner you need
Our experience, quality, commitment, dedication and passion for our work are our best and most appreciated assets. We at Way2 Ecommerce are experts in Magento development and many other fields which are related to e-commerce projects. All the improvements we do on your online shop will be previously analysed and examined by our experts team to guarantee that you have the best solution that meets your requirements. We at Way2 Ecommerce, apart from implementing Magento developments, want to be your technology partner and for that we must show you every day that everything we do adds value to your online shop and makes your business model improve with our experience and knowledge on e-commerce. For all these reasons, if you are thinking about extending your Magento features or you want to start a new Magento development which gives new and better solutions to your business models, Way2 Ecommerce is the company capable to offer the best solutions to your problems and requirements. We at Way2 Ecommerce are experts in e-commerce projects and all our solutions are focused on helping you get your goals in order to increase conversions and sales.