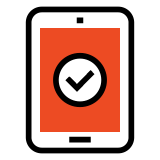 Magento responsive optimises purchase experience on all devices
Magento responsive is the service Way2 Ecommerce offers to adapt, optimise and customise your online shop view and purchase experience on smartphones, tablets and mobile devices in general. The boom of mobile devices has significantly changed the way we connect to the internet. This change has not been unnoticed by e-commerce sector and the sales channel has turned into an omnichannel. Nowadays, customers do not access your online shop only from ther desktop PC's or laptops. Over the last years, access, view and purchase of products from tablets and smartphones has exponentially increased. It is for this reason that we have created Magento responsive service. This service will help you increment sales and conversions from this kind of devices, due to the improvement of the purchase experience on every screen size.
We at Way2 Ecommerce suggest different options to improve purchase experience of your customers:
Magento responsive

The design of your online shop will adapt to the screen size of the different devices your customers use to visit your online shop. Responsive design focuses on giving the same contents and the best user experience regardless of the device it is used to visit the web.
On the other hand, Google recommends and promotes responsive design; these are the reasons: to improve user experience, to avoid duplicated content problems, uniform brand image.
Magento mobile

If, on the contrary, you prefer having a totally independent design for mobile devices, Way2 Ecommerce offers mobile design services to have a different layout on mobile devices, completely independent from the desktop view, and thought exclusively to optimise navigation on smartphones and tablets. Magento Mobile offers an independent layout for mobile devices, having traditional devices layout and mobile devices layout separated. Each layout will be load depending on the device your customer uses to visit your site, one for traditional devices, another one for mobile devices.
Because it is not the same visiting your site from a 27" screen than visiting it from a 5" mobile phone. Desktop PC's and laptops also have peripherals and devices which help us navigate the web. The use of mouses or touch pads help us interact with online shops and easily and quickly visit their different pages. However, on a mobile phone, where only five inches of screen are available, the information shown must be carefully selected and optimised so that the content satisfies the customer's needs. Moreover, mobile users do not have peripherals to help them on their navigation, elements like purchase buttons, product images, shopping cart, etc, must be adapted so that the customer does not miss a detail. Whether your choice is Magento Responsive or Magento Mobile, we at Way2 Ecommerce will help you improve purchase experience of your website customers on mobile devices. Make it easier for your customers, improve purchase experience regardless of the type of device they use to visit your site and increase sales and conversions.